A few days ago we talked about a New Year's resolution to save money. (If you missed it, you can check out my 6 favorite tips
here
). Today, I want to share another one of my goals: one that is much more specific - to curate and install a gallery wall. What is a gallery wall? It's definitely not me building a small museum inside my (already small) apartment, which is the first thing I think of when I hear
gallery wall
. While that
would
be pretty amazing in a really cramped and crowded sort of way, what I'm referring to is a wall (or corner) that's filled with an array of art and photography that doesn't at all match, yet somehow goes together.
Don't get me wrong; my place is not completely devoid of personality. I have stuff hanging on walls and things resting atop bookshelves - a few framed photos of Switzerland here, some of my own artwork there, and way too many collage picture frames hung wherever I felt like hammering in a nail that day. But I'd like to be more intentional with the design of the wall and what I choose to include. Ideally, I'd like to have an artsy-but-not-too-serious gallery wall featuring quirky paintings, interesting photos, and personal mementos, à la this: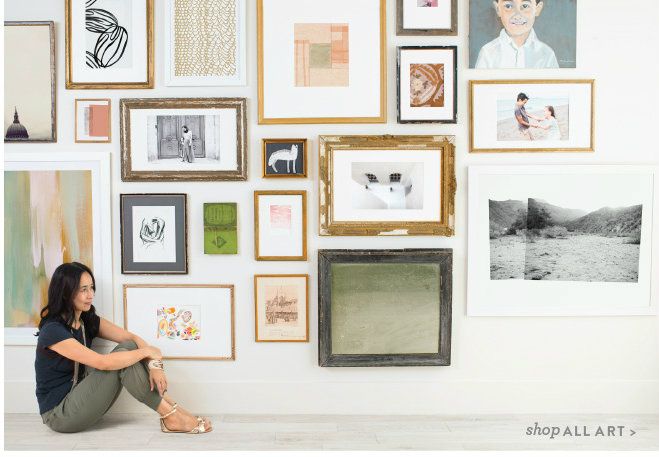 So far I've got the interesting photos (I am especially fond of one collage frame filled with close ups of friends and family doing weird stuff with their eyes. And I just realized that sounds a lot grosser than it is, except for the friend who turned his eyelids inside out....that one's gross factor is totally legit). But I am lacking in the quirky-art department. Which is why I was so happy to discover
minted.com
. It's full to the brim of photography, artwork, illustrations, and prints all designed by independent artists. Each piece comes in array of sizes, and even has the option to come framed.
What I especially love is that many of the designers on the site have aesthetics that are just about as strange as mine. For instance, I just searched for a deer wearing gym socks (yes, I think we've already established that I have unusual taste in imagery), and while I didn't find that specifically, I did find artwork of a deer in a bow tie, a deer wearing a flower crown, and in an unexpected turn of events, a photo-realistic deer with a geometric print superimposed over it that is really speaking to me.
If animals in accouterments and other wall art isn't your thing, minted.com is filled with all other sorts of paper-related goodness: stationery, decorations, cards, calendars, invitations, notebooks, and their newest collection,
save the date cards
. I highly encourage you to check it out. I really believe there is something on that site for
every
body. If I can find woodland creatures dressed like humans, I can almost guarantee you'll find whatever it is you're looking for.
Disclosure: This post was sponsored by minted.com. I received no monetary compensation, but did receive a credit to the website. And that rocks because supporting indie artists is pretty cool to do!