This post brought to you by
Revlon
. All opinions are 100% mine.
**It's important to note: According to Peta, Revlon conducts animal testing. When I agreed to review the products, I was under the impresssion that they were a cruelty-free company. But during fact checking for this post, it became apparent that they are not. Therefore, I cannot in good conscience recommend the purchase of any of their products. As a compassionate consumer, I never buy cosmetics that have been tested on animals. Please be assured that I will never let another oversight like this happen again on this blog. To search for cruelty-free companies, please click here.
**
I was recently given the opportunity to participate in a product review for the
Revlon Expression Experiment
. They sent me a whole bunch of makeup to play with. Check it out:
There were face & eyelid primers,
nail polish
including base coat & top coat, 3 different kinds of
lipstick
, and 2 eyeshadow palettes (which come with handy illustrated instructions on the back).
The face and eyelid primers are just...
ok
. The face primer promises to smooth & soften the skin, reducing the appearance of pores and fine lines. All I really noticed was that when I put it on my nose, it made it a little less shiny for a about a half hour. As for the eyelid primer/brightener, it didn't do much to help keep my eye makeup in place on these
uber
hot summer days we've been having. But I did apply it to the bow of my lip as a highlighter to make it appear fuller.
The nail polish, specifically the base coat, was the most impressive product by far. The orange polish and top coat are your average orange nail polish and top coat. But the base coat completely rocks. I will say that it leaves a strange, musty smell that somehow manages to last about 3 days, but it's an odor most people probably wouldn't notice. I just happen to be blessed with a keen sense of smell.
Lucky me?
Anyway. As an experiment I put base coat only on one hand, and left it off the other. I think the results speak for themselves.
Usually my nail polish chips within 2 days - 3 if I'm lucky. So when my nails still looked almost perfect after 9 whole days I could hardly believe it. I'd never been a base coat kind of girl before, but you better believe I'm going to start taking the extra 5 minutes to apply it before I paint my nails.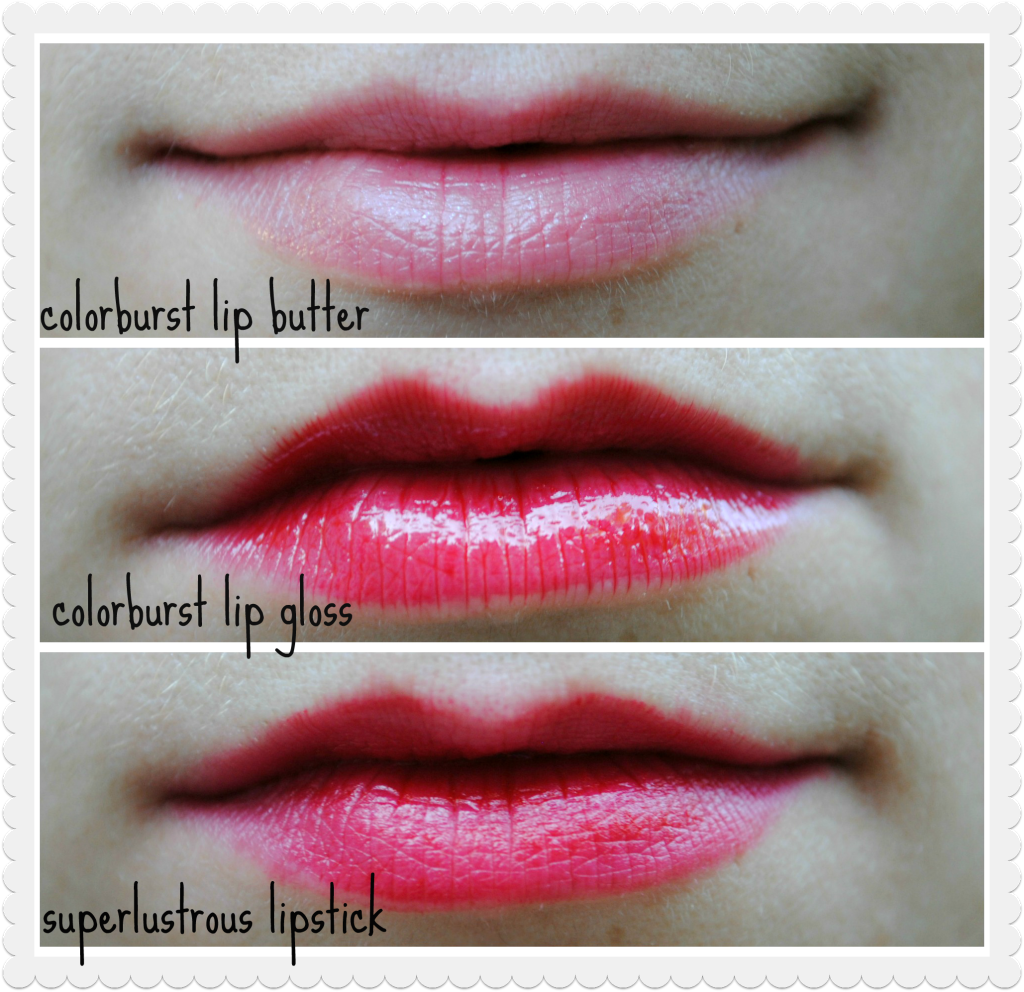 As you can see, the lipsticks, while all in the same shade of red, are of varying intensity of pigmentation. I liked the lip butter the best - it was very moisturizing, and I think it's a universally flattering color.
The lip gloss was a little too sticky and shiny for my taste.
The lipstick is very pigmented, and looked too intense until I blotted most of it off. After that, it left a pretty stain of color behind.
I had been most excited to try the
eye shadows
. The colors look bold and interesting, but after using them I've come to the conclusion that they are anything but.
The shadows aren't very pigmented, and I had trouble getting the colors to show up on my eyelids at all. The only way to get them to show up at all was to use them wet, and still it was just barely visible. In the photo you see, I had applied them wet, and used many, many layers. The highlighting colors (yellow in the grey palette, and green in the blue palette) didn't even show up on my lids, no matter what I did.
If you like a (very) light wash of barely visible color on your lids, then go with these. But if you like your eyeshadow to actually show up, this is not the palette for you.
Makeup can be such an empowering tool for women - it can help us feel prettier and in turn, more confident. Want to show me how you express yourself with makeup? Post your looks on Facebook using the Revlon Expression Experiment application and leave me a link in the comments section. I'd love to see what you come up with!