{tank: f21 | skirt: target | sandals: delias (similar) | earrings: claires | necklace: gift}






So, yesterday I was all tied up in knots - literally. First I tried a new, totally easy way to style a top knot (tutorial
here
!), and that inspired me to tie a knot in my shirt as well.
Because, you know, if there's an opportunity to match my tank top to my hair, I'm all over it.
In other news, I recently participated in a Christmas in July blogger swap with the sweet, funny, & adorable Whitney of
Katy Goes Boom
.
And she sent me some fantastically thoughtful gifts.
Take a look: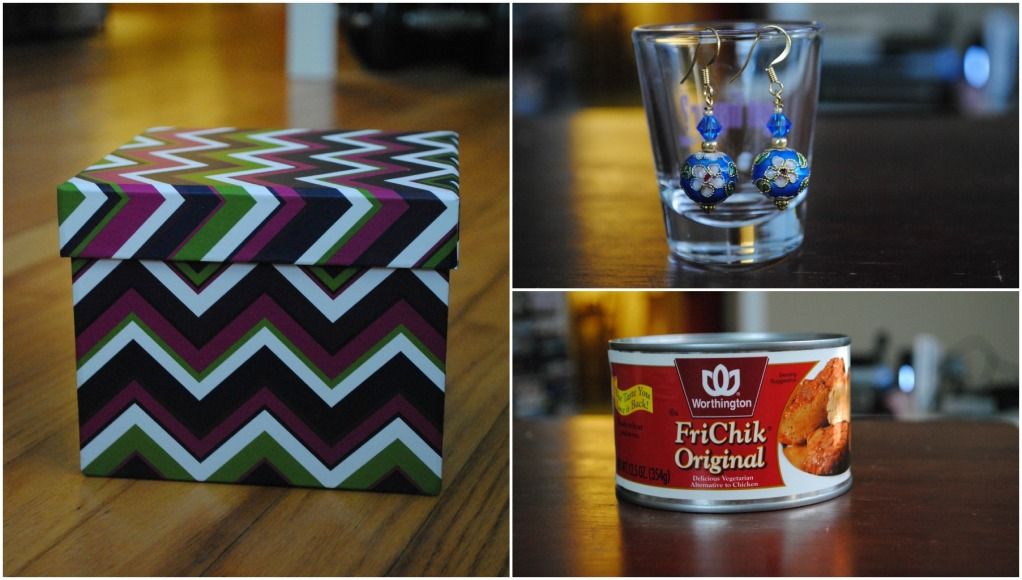 clockwise from left: a chevron storage box (love!), dainty earrings that she made herself, and a can of her favorite mock-meat, FriChik, for me to try since it's not sold around these parts.
Not pictured is another gift that's arriving separately due to some curious-child-interference (ie. her daughter plucked it out of the package before she sent it). Word has it the culprit's feeling a bit guilty about plundering from my stash, and she sent her sincerest apologies via email along with some virtual hugs and kisses. As if anyone could be mad at that kid!
Click
here
to check out what everyone else sent & received.