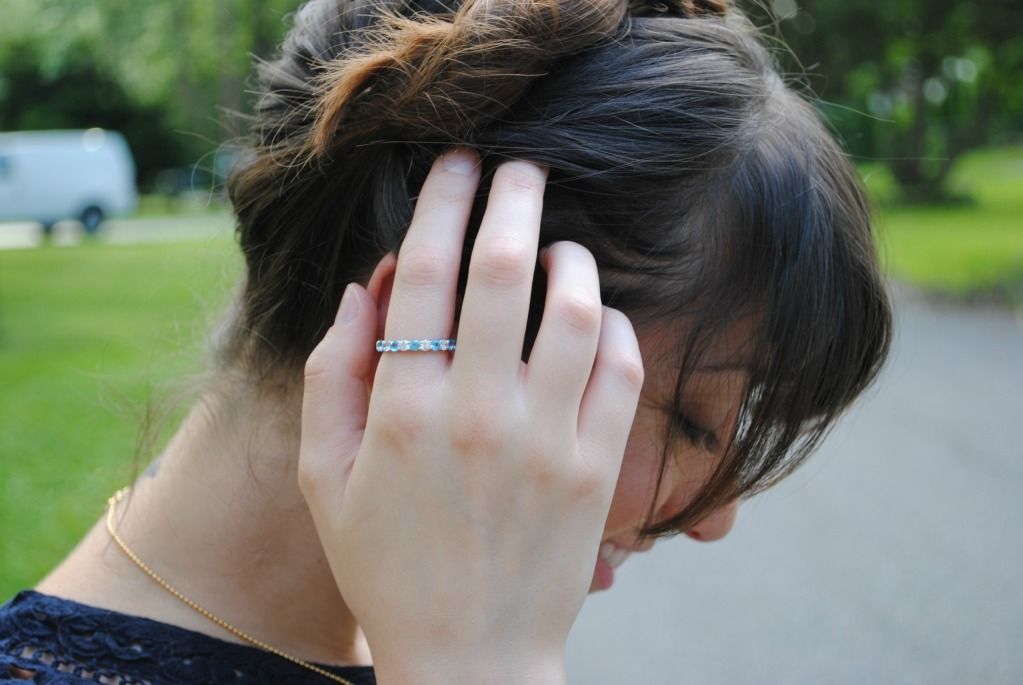 Last week my dad's ex-wife moved out of her house and out of the state, and left the place a completely cluttered, trashy mess. I'm talking clothing still in drawers, a pantry full of expired food, dirty girdles, basement filled with 8 years worth of Christmas decorations, doors off closets. Unfortunately, my dad's name is still on the lease, so in order to get his deposit back we have to go clean up after her mess.
Gee, thanks. How......considerate?
Anyway, I knew I'd need to wear something that would keep me cool and comfy and that I could move around in (separating hundreds of random items into piles of keep, trash, or donate, then hauling leftover furniture and garbage to the dumpster we had to rent requires major range of motion).
But, you know, a girl still wants to look cute even when she's performing dirty, sweaty, manual labor.
On a happier note, I received that pretty little ring up there from Anjolee. They sell beautiful, completely customizable fine jewelry like
stud earrings
and
diamond bridal sets
. I chose one of their gorgeous
anniversary rings for women
with topaz to review.
I have to admit that this is probably the nicest, most delicate, prettiest ring I've ever owned (sorry Fair Lawn class of '97 ring - you were cool when I was 17, but I've moved on; I hope we can still be friends)
.
It came packaged in a lovely little box, and just makes me feel uber girly and fancy when I wear it.
It's so alluring that I find myself making excuses to don it even when I probably shouldn't, like say, when cleaning out a filthy house. Luckily I remembered to protect it in my pocket when things got really messy. Which is more than I can say for my toes. Sandals + carrying lots of heavy objects + accidentally dropping one of them on your foot = major pain and muttered profanity.
I'm partying over
here
today.